No wonder Tata Motors is doing good in car sales with its Nexon and Punch models. After sales service has been still a problem area with the brand!
Let's take a close look and see what happens at service centers in Jaipur. Most of the google reviews of service centers dips the brand in black! Some of the service centers, such as Autoplex 'cheats' customers on the name of service of cars, the google reviews mentions.
Most of the google reviews have very basic complaints about car wash not done properly, time consuming service as some cars are not serviced and given back even after3-4 days, despite of having car insurance the customers were charged, instead of repair car got damaged by service center, time prediction of job completion not proper, wrong cost estimates given, Getting AMCs charged without customer's knowledge, unbale to resolve technical fault in cars due to ill-trained staffs and many more…
Here you can have a look –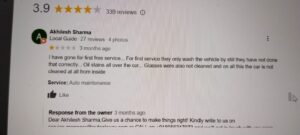 We spoke to some of the customers at Autoplex Service station and found the majority of them were having unresolved issues with their cars. Some of them were feeling cheated and had an opinion that the service stations in Jaipur should be closed permanently and the services can be handed over to local service stations without mentioning Tata brand to save 'trust' made by the brand.