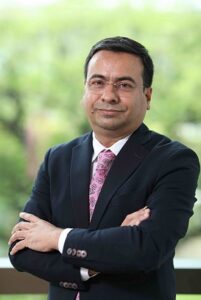 Jaipur, November 16, 2022: YES SECURITIES (YSL), one of India's leading Wealth Broking & Financial Advisory firms, has seen around 5x growth (YoY) in opening new Demat & trading accounts in Rajasthan in the last financial year. Increasing financial awareness, rapid penetration of internet services in Tier-II & III cities, a better understanding of financial risk, and digitization of user onboarding journeys are the major reasons for this increase in stock market participation. In the near future, YSL aims to leverage fintech & digital transformation to reach the last mile investor of Rajasthan.
As per CDSL and NSDL, Rajasthan's investor population more than doubled in the last two years. The latest data also shows that Rajasthan added over 21 lakh new investors since November 2021, a growth of 45% YoY. While the participation of investors from the state has increased, this segment is mere 10% (overall 67.7 lakh Demat accounts) of Rajasthan's total population of 6.89 crore, which shows immense potential for investment and wealth creation.
Rajasthan continues to be one of the top five markets in India for YES SECURITIES. One of the milestones YSL achieved opening around 25% of new accounts by women investors in Rajasthan. This data highlights the significant rise in women's participation in the stock markets, especially in Rajasthan.
As of now, the top six cities for YSL are Jaipur, Jodhpur, Alwar, Udaipur, Dausa, and Kota. Currently, YSL has touched over 80 cities in client acquisition in Rajasthan. Going forward, YSL plans to further strengthen its offerings and services in all cities of Rajasthan by FY24.
Speaking about the development, Mr. Anshul Arzare, Joint MD and CEO, YES SECURITIES, said, "Rajasthan has always been one of the critical markets for us with its unique leverage in the economic paradigm and its increasing participation in the stock market. We have seen this prosperity translate into spectacular growth in our business in Rajasthan, and we intend to capitalize on it further by expanding our operations in existing and other new cities. Depending on the long-term financial goals and risk appetite of our clients, we provide solutions in all financial instruments varying from equity, currency, commodities, F&O, fixed income, offshore investments, etc. This strategic approach of not selling products but solutions to our customers helped us achieve this feat in the state. What differentiates YSL from other companies is our research-backed advisory. We have one of the largest research teams in the industry which enables us to become not only advisors but also partners in their wealth creation journey."