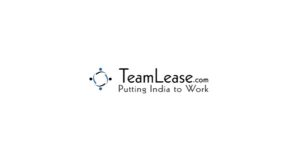 National, 27th  May 2023: TeamLease Services, India's leading staffing conglomerate revolutionising employment, employability, and e-workforce, has released its flagship 'Jobs and Salary Primer Report' for FY 2022-2023. The unique and comprehensive report reveals a range of salary growth between 3.20% and 10.19% across various industries, which is slightly slower compared to the previous year. However, the report uncovered a fascinating insight that despite a dip in overall salary growth this year, over 41% of job profiles in various industries have just a 5% pay difference between permanent and temporary roles. Furthermore, as organizations continue to focus on growth and digital transformation, the demand for Sales and IT roles has remained quite high.
The majority of industries included in the survey have indicated the creation of "hot jobs" that offer lucrative salaries and nearly half of the industries are developing cutting-edge positions that are the right fit for the future. Bangalore has an impressive growth rate of 7.79% compared to last year. On the contrary, the BFSI segment witnessed a sharp decline in average salaries this year after two years of steady growth. However, despite the decrease in pay-outs, the BFSI industry is still creating a diverse range of job profiles that are both hot and longstanding, while also implementing measures to optimize salaries.
Despite a dip in average salaries in the telecom industry, the report highlights an astonishing 10.19% hike in the Relationship Manager role in the telecom sector in Bengaluru, making it the highest-paying job in the market. Following closely is the Game Developer role in media and entertainment, with a hike of 9.30%, also in Bengaluru. Across sectors, while the median salary increment stood at a steady 8.03%, the maximum increment of 10.19% was slightly lower than the previous year.
Sharing his views, Mr. Kartik Narayan, Chief Executive Officer – Staffing, TeamLease Services, said, "We are thrilled to unveil our annual Jobs & Salary Primer Report for FY 2022-2023, which highlights key salary trends from the Indian job market. Due to socio economic factors like global layoffs and funding winter, median salary growth has been slightly lower than last year, yet as the Indian job market continues to evolve, we are seeing an influx of new job roles that have gained momentum from a salary perspective. An interesting aspect to note is that a staggering 41% of all profiles have less than a 5% pay difference between compensation structures for permanent and temporary roles, indicating the growing parity of temporary employment."
Furthermore, according to the report findings, over the last 5 years, there has been impressive double-digit growth in the average salary of 5 out of 8 industries in the manufacturing sector and 3 out of 9 in the servicing sector, with Healthcare & Allied Industries having the highest growth of 20.46% and Education with 51.83% in respective sectors. Moreover, industries like Hospitality, Automobile & Allied Industries, e-commerce & Tech Start-ups and Media & Entertainment have witnessed a dip.
"From the Construction and Real Estate industry reaching a 5-year high to Healthcare and Allied Industries witnessing salaries below pandemic levels, we are seeing unique trends emerge in each industry. The Industrial Manufacturing and Allied sector is looking particularly exciting, with lucrative salaries being offered for cutting-edge roles. In addition, Media and Entertainment industry is creating a host of new-age hot jobs that come with attractive salaries.", said Mr. Sumit Sarabhai, Business Head, TeamLease Services.
In terms of job roles, 11 out of the 17 industries created new hot jobs, and 7 industries created new upcoming jobs. These profiles include some previously unheard-of roles such as Sr. Golang Developer in the Telecom industry, Sr. Biostatistician in Healthcare & Pharmaceuticals, Lead Magento Developer in E-commerce and Tech Start-ups, and Robotics Instructor in Educational Services. On the blue-collar side, popular profiles in 2023 will include Sales Executive, Electrician, AC Technician, and Forklift Operator. Additionally, there are several exciting emerging job roles as well, including Data Science Consultant in BFSI, Media Operations Executive in FMCG, DevOps Engineer in IT & Knowledge Services, Content Specialist-Game in Media and Entertainment, and eMobility Charging Executive in Automobile & Allied Industries, among others.
The Jobs and Salary Primer Report FY22 is a comprehensive report that delves deep into the salary trends of the past five years, covering 403 unique employers and 357 unique employees across 9 hub cities and 17 industries, highlighting the median salary increment of around 8.03%.