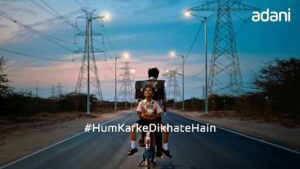 Ahmedabad, 30 May 2023: The Adani Group, India's largest and fastest-growing integrated infrastructure portfolio of companies, unveiled its new multi-media, multi-platform ad-campaign, 'Hum Karke Dikhate Hain'.
Developed by Ogilvy India, the "Hum mushkilo ki nahi sunte, karke dikhate hai" (Undeterred by challenges, we deliver on our commitments) campaign is a powerful testament to the Adani Group's resilience, tenacity and relentless pursuit of overcoming obstacles to build world-class infrastructure, both in India and abroad.
Through a 100-second television commercial that takes viewers on a visually stunning journey across the country, the Adani Group celebrates its 35 years of dedicated service to India. The Group will roll out the campaign across print, broadcast and social media platforms over the next few weeks.
Mr Pranav Adani, Director, Adani Enterprises said, "The campaign perfectly captures the unconquerable spirit and ethos of the Adani Group to convert challenges into opportunities and its resolve to driving positive change in the lives of millions of Indians. As a first-generation entrepreneurial company, it is this indefatigable spirit that has been a bedrock of our culture."
The Group has diversified into a world-class portfolio of independently governed market leading businesses that have revolutionized industry practices in sectors like energy and utilities, transport and logistics, materials, metals and mining, and direct-to-consumer.
Piyush Pandey, Chairman of Global Creative & Executive Chairman – India, Ogilvy, commented, "Investing in infrastructure and national development projects needs determination and belief. This is the spirit of Adani and its new corporate campaign."
For more information about the campaign and to view the brand film, please click: Hum Karke Dikhate Hain | Growth With Goodness Against All Odds