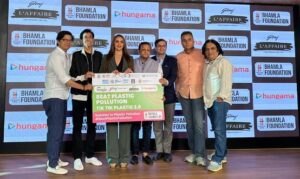 Mumbai, 06th June  2023: Godrej Industries, in partnership with the Bhamla Foundation and Hungama, has undertaken a significant endeavour to raise awareness towards plastic pollution by creating a musical anthem. This musical anthem is part of the three-pronged campaign titled #BeatPlasticPollution. The anthem, "Tik Tik PLASTIC 2.0," is composed by the celebrated artist Shaan, with lyrics penned by Swanand Kirkere, and brought to life through captivating choreography by Shiamak Davar. Launched today to celebrate World Environment Day 2023, the anthem seeks to inspire sustainable solutions through the power of music.
The "Tik Tik PLASTIC 2.0" anthem features a star-studded lineup of industry powerhouses and influential artists who have wholeheartedly dedicated their talent to create awareness about plastic pollution. Joining forces in this anthem are renowned figures such as Vidya Balan, Gulzar, Alia Bhatt, Ayushmann Khurrana, Shiamak Davar, Guneet Monga, Shaan, Ricky Kej, Armaan Malik, Neeti Mohan, Raveena Tandon, Stebin Ben, Sonu Nigam and Jannat Zubair & Faisu.
The second leg of the campaign will involve a Green Ride Cyclothon – 'Pedal for the Planet' on 4th June which will urge people to pledge their support to make a lasting difference to our planet.  The main event, on World Environment Day, will bring together diverse voices such as different artists, policymakers, and environmentalists on a common platform to discuss/address the issue of plastic pollution and form partnerships to drive policy changes at various levels.
This collaborative effort has significant support from esteemed organizations such as the Ministry of Environment, Forest and Climate Change (Government of India), G20 India Presidency and the United Nations Environment Programme. The collective alliance emphasizes the global significance and urgency of addressing plastic pollution on a large scale. Notable brands, including Godrej Magic and Godrej L'Affaire, also support this impactful initiative.
The release of the "Tik Tik PLASTIC 2.0" anthem ahead of the World Environment Day represents a crucial reminder of our shared responsibility in addressing plastic pollution. It is an impactful step towards making a lasting difference to our planet and nurturing a sustainable future for all.
Please find the YouTube link to the video, here: https://www.youtube.com/watch?v=bEHGtp0bpck
Burjis Godrej, Executive Director, Godrej Agrovet, said,"We are delighted to collaborate with the Bhamla Foundation and Hungama Music in the creation of the powerful 'Tik Tik PLASTIC' anthem, an innovative musical initiative aimed at raising awareness about the urgent need to combat plastic pollution. With the  support of renowned institutions such as the Ministry of Environment, Forest and Climate Change, the G20 India Presidency, and the United Nations Environment Programme,  our collective endeavour will have a profound impact and pave the way for a future free from the scourge of plastic. Our commitment to a sustainable future is further reinforced by our products such as Magic Handwash, which is a great example of a sustainable product. 93% of regular handwashes is water so they transport 93% water while Magic handwash transports only the concentrate and saves the planet. In 2022, over 72 million litres of handwash was consumed in India. If Magic wasn't there, this would have resulted in transportation of over 67 million litres of water. Courtesy of magic, this figure was 62 million. Magic alone helped the planet by preventing the transport of over 5 million litres of water".
Asif Bhamla, Chairman, Bhamla Foundation, commented on the association, "We are thrilled to collaborate with Godrej, a brand that has consistently demonstrated a deep commitment to environmental consciousness. We have long admired Godrej's philanthropic endeavours and their proactive stance towards sustainability. Their support in our campaign, Tik Tik Plastic, to beat plastic pollution on World Environment Day 2023, is a testament to their dedication in driving positive change. Together, we aim to raise awareness, inspire action, and create a lasting impact in the fight against plastic pollution. We sincerely thank Godrej for their invaluable partnership and look forward to a successful campaign that will contribute towards a greener and cleaner planet."
Neeraj Roy, Founder Bollywood Hungama, added, "We are proud to be associated with the Tik Tik Plastic campaign on World Environment Day 2023. As a leading entertainment platform, we recognize the power of media in driving positive change. Through our distribution channels, we are committed to spreading awareness about the pressing issue of plastic pollution and inspiring individuals to take action. It is our privilege to support such impactful initiatives that aim to create a sustainable future."
On World Environment day, the global campaign event, which would be attended by Bollywood celebrities and government officials, would start at 7:30 PM at Carter Road Amphitheatre, Bandra West.