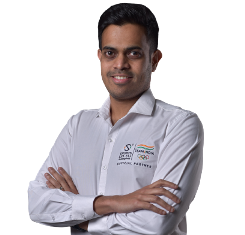 Jaipur, 16th June 2023: Sports For All (SFA), India's leading tech-enabled multi-sport grassroots competition platform emphasizes on promoting sports at the grassroots level across the country. With a strong focus on the government's mission for a thriving sporting culture, SFA is expanding its footprint to embrace the vibrant city of Jaipur.
Committing to strengthening India's sporting DNA, the key focus areas for SFA has been enabling Public & Private sporting initiatives in the country, as well as building a foundation through SFA Championships. In the last 8years since inception, SFA has enabled its IP tech expertise for 200,000 athletes through 12 SFA Championships across geographies. In addition, the 36th National Games, Gujarat, 2022 and Khelo India Youth Games, Haryana, 2021 were powered by the SFA's Games Management System (the tech IP). In 2023, SFA signed on as a sponsor for the  Khelo India Youth Games, Madhya Pradesh edition, for the next 5years.
Rajas Joshi, COO, Sports For All (SFA), expressed, "Sports For All will transform how school sports are looked at, in India. Bringing the combined power of Tech and visual content in assessing and enhancing performance at school level, will ensure a sustainable platform for the future champions. The ability to play sports early in life at a level that is similar to National & International leagues, will help every aspiring athlete to learn and thrive in the most competitive sporting environment. Our endeavor at SFA is to empower our youth and help realise the country's quest for gold".
In 2023, SFA will encourage 2 Lakh athletes through 10 SFA Championships in a span of 4 months. The vision is to make SFA Championships the nervous system for discovering sporting potential at the school-level and groom future champions, through capabilities in tech and data analytics. By leveraging technology extensively, recording their performance videos and data analytics, city-by city, SFA will discover the number one school for sports in India.